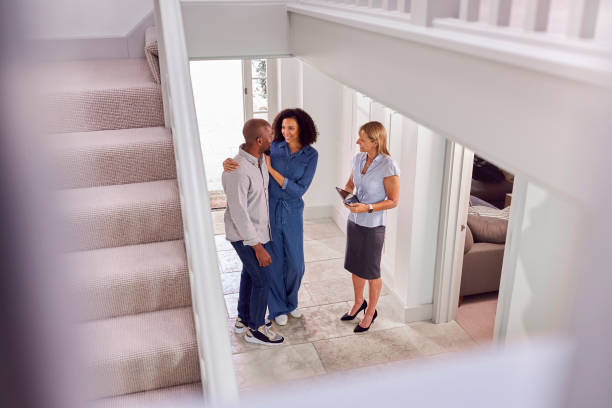 10 Things to Spot on a Home Tour
September 7, 2022
Deciding to buy a home is a big financial decision which is why it's best to not buy it without going on a home tour first. Touring is one of the most important steps of the home buying process, so how do you get the most out of the tour?
The first step is to know what to look for. There's a lot to look at and take in when you tour a new home which is why you need a strategy for properly determining if a home is right for you. If you've already been touring a home, then you probably already know what area and price you want. 
So what are some other things to spot on a home tour? Personal preferences aside, there are some important things you need to look out for, and American Bancshares wants to help you find them.
Here's What to Look Out For
There are a number of different things you need to watch out for.
Odors
When touring a home, you sometimes need to rely on all of your senses. If a home has an odor, there could be a serious issue that you can't see. Mold and mildew are two serious problems that can cause a smell. Mold smells similar to wet socks and mold will smell less "musty". This can cause serious health issues if left unchecked. 
Other smells such as cigarettes and pet odors can also cling to a home and can be very difficult to remove. People looking to sell their homes will often put candles and other fragrances out to cover these odors. 
Wall and Floor Conditions 
While aesthetics are definitely an important part of a home, cracks in the floors and walls can be more than just a visual disparity. These are often signs of a larger problem. Cracks will typically occur when the home's foundation is compromised. Wide cracks that run horizontally and/or diagonally could indicate serious problems with the foundation as well as water damage.
Water damage can be a serious problem for both aesthetics and function. This type of damage can be hard to spot at times and trying to find the source of the problem can be even more difficult.
Fixtures and Systems
Integrated fixtures and systems in the home should be investigated carefully. Look mainly for issues with electrical wiring and cooling/heating elements. These can lead to serious problems if they aren't working properly and can cost lots of money to repair or replace. 
Vibrating outlets and flickering lights are a good indication that there is something wrong with the electrical systems in the home. Brown or orange water coming from a faucet is a good indicator that there is something wrong with the water pipes in the home.
Custom Additions
If a home is listed as 2 bedrooms / 1 bath and you find an extra bathroom, this should be concerning rather than exciting. If this addition was unpermitted, it can cause quite a headache. While safety is one issue, the main issue could come from the city which was unaware of an extra bathroom being constructed. You will then be held responsible for removing that bathroom altogether. 
Other things to look out for include converted garages, guest houses, and remodeling projects that expand the space of the home. 
Lawn Condition
Yellow and brown spots aren't something to be concerned about, especially in South Florida. It can happen naturally from a number of different things. What you should look out for are areas that have fungal diseases. These aren't hazardous, but they can spread and cost a lot of money to remove. Look for wet and soggy areas on the lawn accompanied by a bad odor. 
What to Ask on a Home Tour?
Spotting things on a home tour is important, but sometimes you need to ask some questions as well to get the full picture of what you're seeing. Here are some important questions to ask while on a home tour.
When Are Offers Due?
When taking a home tour, it's important to ask about offered due dates. You could potentially miss out on a home that you love if you don't know when the due date is for offers. Knowing the date can help you make the best decision. 
How Many Offer Have Been Made?
You should also ask to see how many offers have been made on the home. If there are already a number of offers on a home, it's a good sign that the home will sell fast. 
Why Are The Sellers Moving?
Understanding why a seller is moving can be a good way of seeing potential issues with the home or the surrounding neighborhood. 
Were Any Modifications Made to the Home?
This can be connected with spotting any unpermitted work while home on a home tour. This is a good way of finding things in the home that were not originally there. 
Issues with the Property?
Listing agents have to be fully transparent about any issues a home has. It doesn't hurt to ask while on a home tour to understand the situation fully. 
There are a number of things that you have to look out for when on a home tour. Try your best not to be distracted by the idea of a new home. Look carefully and take your time looking at a new home.