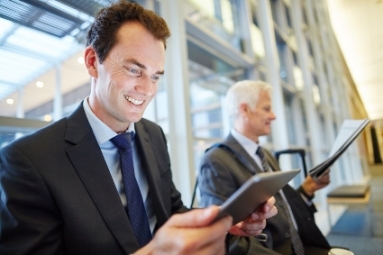 Jobseekers Attracted By Technology Savvy Businesses
August 17, 2020
Technology
Find new technology-based solutions
It may be easier to patch and bolt on software and systems as the need arises. However, starting from scratch to develop a completely interactive system will provide a business with a competitive edge as clients shift to online. Understanding technology is extremely important when it comes to gaining that competitive edge.
"Because you are focused on day-to-day operations, it's easy to fall into just patching on systems," says Arthur Davis, chief information officer for American Bancshares Mortgage. "You have to have an owner who is willing to make that investment; who gets it, who understands the importance of doing it right. As we've grown, we've recognized that need."
The storefront of today is the homepage, says Davis.
"Now, that web interface – that electronic storefront if you will – may be the first impression of industry professionals have who are looking to join our team, or future homeowners," Davis told MPA. "We're making a significant investment right now to overhaul our website because it is over five years old."
And in the technology interface/web design world, five years is an eternity.
Davis explains that American Bancshares is currently working with a third-party vendor who has worked with Fortune 500 companies – including mortgage companies – to completely revamp the website.
But more than just updating the home page, there is another very large consideration: making it mobile friendly.
Mobile-Friendly
"We learned that the majority of traffic hitting our website is from mobile devices, as future homeowners who are out on the road are looking at properties," he says. "Our mobile site is going to be easy to use with the right amount of features for the smaller screen."
The upgrade/revamp will allow for applications to be sent through the website.
"On the back end of that, it connects to our LOS, so there is the integration component, and it will connect with some CRM stuff we're doing," he says. "It is a really big investment and a big project. I'm so glad that they aren't just willing to 'patch on' but to do it right."
Ease of use is crucial to ensure that potential clients don't become frustrated and turn to another lender, says Davis.
And the reality of the business is that people do get excited about buying a home, but not about the details of the loan process.
"This might come as a shock, but people don't get excited about mortgages" he chuckles. "They get excited about getting the home. They get excited by the third or fourth bedroom, by the nursery or imagining children playing in the yard. That is what people focus on – they want a smooth transaction."
By providing clients with status updates via email and with video to reassure them that the loan process is proceeding, that goes a long way to keeping the client happy, says Davis.
Davis' Trial By Fire
With the changes that came with TRID's new transparency requirements and the accompanying system enhancements to the LOS, there has been a need for more training of loan officers.
"We've been bringing in loan officers for face-to-face training," says Davis. "I started with American Bancshares one month prior to TRID going effective, so it was truly a trial by fire. I understood the retail model because I've been in the secondary for 10 years and then I did servicing prior to that, and have been in mortgage since 1999; but I thought, 'oh man, I really need to do some learning about what is really changing, and then embrace those changes. And we got through it."
When it comes down to the loan and interacting with the loan officer and their relationship with the realtor, it is all about having a good LOS, Davis points out.
"We use Encompass, but you have to take advantage of those opportunities within your own LOS and make them work for you," he says. "Because quite honestly, the default settings don't apply to our business and our specific relationships, and if you don't take advantage of those and customize it, it can get out of hand.
"What I mean by that is I can talk to my people and then pop into the system and make a change and that is going to impact thousands of transactions and loans going forward."
An example of that is using the technology to clearly communicate closing dates.
"We track the closing day, we communicate internally, and we are always using our reporting features to make sure we are on top of our closings," he says, "because we also know that it is the customer and the title company that we've got to get online with the closing package."